Bulk cryogenic hose is used for truck trailer and tank bulk loading and unloading of cryogenic liquids such as oxygen, nitrogen, and argon. This hose connection is typically between a cryogenic trailer and a permanently fixed storage vessel. Unisource bulk cryogenic hose is ideal for these applications. Our hose assemblies are constructed using corrugated stainless steel hose, braided stainless steel overbraid for pressure resistance, and welded-on stainless steel female NPT ends. An 18 inch long stainless steel interlocked bend-restrictor casing is welded over the hose on each end to prevent kinking. Stainless steel casing covering the full length of the hose is optional. This all-welded stainless steel hose provides impressive flexibility, even in cryogenic conditions. Unisource bulk cryogenic hose can be ordered with CGA fittings silver brazed to each end, or fittings can be ordered separately. Assemblies can also be cleaned, capped and packaged for O2 service per CGA G-4.1. All bulk cryogenic hose assemblies have a permanent identification ring with manufacturer, date, and working pressure.
Standard length is 14 feet, but other lengths can be fabricated upon request. Typical sizes are 1-1/2″ and 2″, but other sizes can be build to order.
Unisource manufactures cryogenic hose for other applications also. See our section on Cryogenic Liquid Cylinder Hose for information on trans-filling assemblies.
Unisource is a member of the Compressed Gas Association (CGA), the leading organization for the development of safety standards in the gas industry.
View our home page for Cryogenic Hose and Hose for High-Pressure Gases.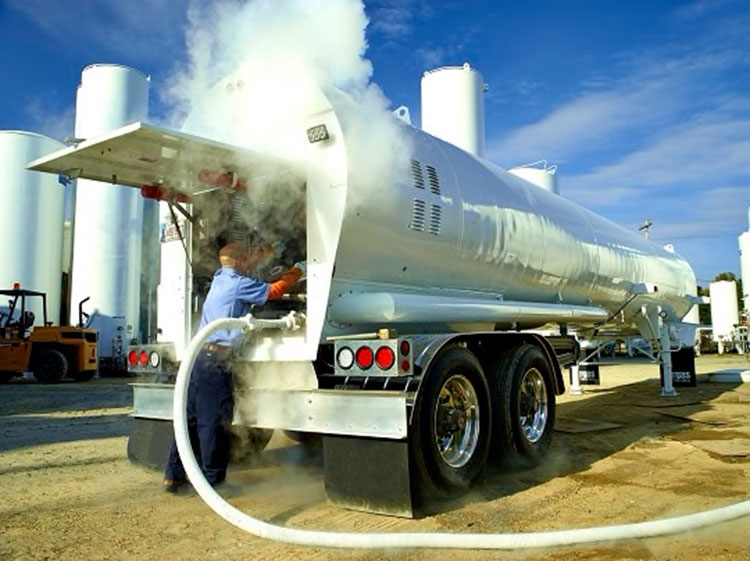 SF21 "Superflex" Truck & Tank Bulk Loading/Unloading Hose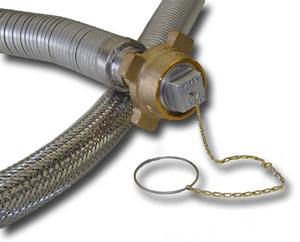 Unisource Superflex Style SF21 is an all-stainless steel corrugated hose with stainless steel overbraid. SF21 is ideal for cryogenic liquid bulk transfer. Light weight and flexible at cryogenic temperatures. Standard assembly has 18" long stainless steel armor casing cuffs at act as bend restrictors.
Full range of sizes available. Hoses can be cleaned, capped, and bagged for oxygen service. Optional bronze CGA nuts, sleeves, and plugs can be added (specify thread-on or backwelded). SF21 Superflex bulk cryogenic hoses can be ordered with full stainless steel armor casing or "Tuff-Guard" nylon scuff guard. For higher pressure service, specify SF22 double braided hose.
CGA Nuts, Sleeves, Plugs For Hose
Bronze/brass CGA nuts, sleeves, and plugs and other accessories can be ordered attached to bulk cryogenic hose or separately. Tail plugs for nitrogen, argon, and oxygen are aluminum. Tail plugs for C02 are brass.
| | | | | | | |
| --- | --- | --- | --- | --- | --- | --- |
| Hose | Reinforcement | Temperature | Pressure Range | Sizes | CGA Fittings | Fittings Available |
| Corrugated close pitch 321 stainless steel. Mechanically formed | Stainless steel braid | Cryogenic to +1500°F | 472 PSIG to 516 PSIG (Depending on size) | 1″, 1-1/2″, and 2″. Other sizes available upon request | CGA nuts, sleeves, and plugs for oxygen, nitrogen, argon, or CO2 | Male or female stainless steel NPT threads |