Expansion compensators are used to accommodate thermal pipe growth and other pipe movements in smaller diameter piping systems (up to 4 inch). These products work similarly to externally pressurized expansion joints in larger diameter piping. They are constructed with stainless steel bellows surrounded by a metallic housing. These long bellows maintain their stability due to being surrounded by pressurized steam or water and an internal flange. Expansion compensators can take up as much as 2 inches of total axial travel. Choose from either carbon steel threaded ends, carbon steel weld ends, or copper tube ends. Flanged ends are available upon request.
For proper operation, expansion compensators must be adequately anchored and guided. Consult our Metallic Expansion Joint web section for information on expansion joint systems or consult EJMA (Expansion Joint Manufacturer's Association) for their booklet A Practical Guide To Expansion Joints.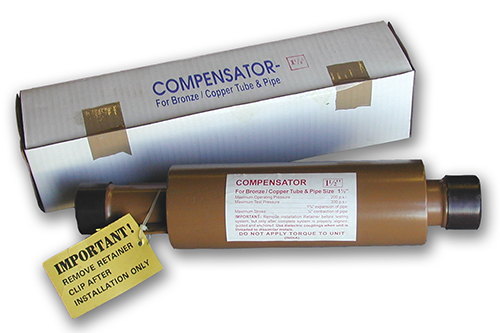 Series 414, 415, & 416 Expansion Compensators
For the compensation of thermal growth in small diameter piping systems, Unisource Series 414, 415, and 416 Expansion Compensators are the ideal choice. These economical expansion compensation components utilize the design theory behind externally pressurized expansion joints that are used in large diameter steam piping and apply these designs to a smaller size, lower temperature piping systems.
Unisource Expansion Compensators are often used in HVAC systems such as hot water lines and steam condensate to absorb the effects of thermal pipe growth. Like externally pressurized expansion joints, Unisource expansion compensators are a packless, maintenance-free joint that incorporates an all stainless steel multi-ply flexible bellows, a steel enclosure, with an external and internal guide ring/sleeve to maintain proper alignment of the inner pipe. The sleeve isolates the bellows from media, eliminating flow turbulence. External pressure is applied to the bellows via a gap between the internal flange and the housing. Bellows squirm is eliminated by means of an internal flange, and also guides the bellows along the longitudinal center-line. The external pressure keeps the bellows stable. For proper operation, expansion compensators must be adequately anchored and guided.
Choose from either Series 414 with carbon steel male NPT threaded ends, Series 415 with carbon steel beveled weld ends, or Series 416 with copper tube ends. Carbon steel beveled weld ends or flanged ends can be attached upon request. Most styles are available in sizes from 3/4" through 4". All sizes and styles are rated for 2" of axial travel. Caution: manufacturing process utilizes silver brazing. Do not exceed 1000°F during installation.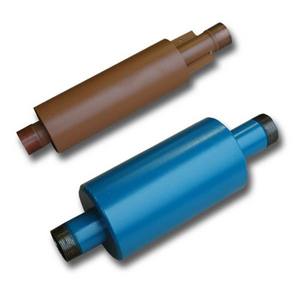 | | | |
| --- | --- | --- |
| Pressure Range | Axial Travel | Bellow Material, End Configurations |
| 200 PSIG | 1.75″ compression; 0.25″ elongation | Series 300 stainless steel bellows. Male NPT, copper sweat, or weld ends. |