Flex Connectors for Copper Piping
Unisource Flex Connectors for Copper Piping include a range of styles and overall lengths. We offer the traditional bronze hose and braid with copper end connections (Series 410 and 411) in both the traditional short pump connector lengths, as well as made-to-order longer lengths.
Our Series 412 reflect the new technology stainless steel hose and braid with copper sweat ends. These connectors are pre-manufactured in longer lengths for more efficient noise and vibration control and for accommodating greater lateral offset.
Series 413 flex connectors for copper piping are ideal for water connections such as heat pumps and fan coils applications. These connectors are made using EPDM black rubber with stainless steel overbraid and crimped on end fittings.
We also offer flexible seismic loops for copper piping systems, including medical gas systems. See our Seismic Loops/Flexible Loops section for information.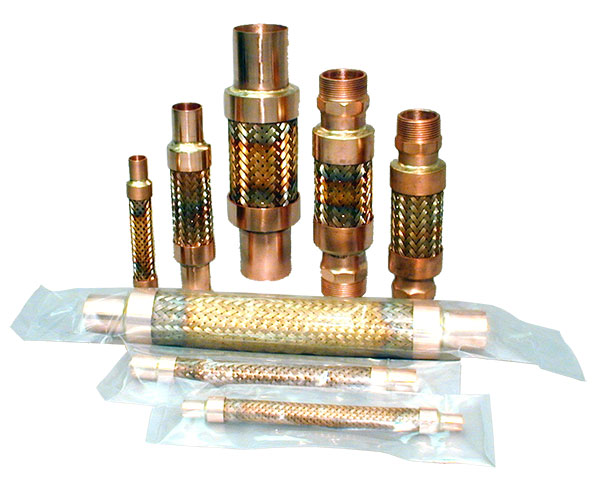 Series 410 & 411 Bronze Braided Flex Connectors
Series 412
U.L. Vibration Absorbers
Series 413 Flex Connectors for Copper Piping
Type HP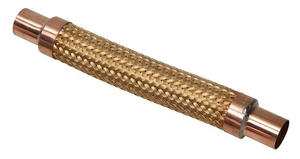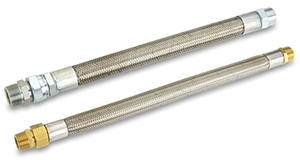 Series 410 & 411 flex connectors are the standard of the industry in braided connectors for copper piping. This style connector is constructed with bronze corrugated hose and braid for flexibility and optimum resistance to flux chemicals. Stainless steel hose and braid is available for higher-pressure ratings. The traditional overall lengths of Series 410 & 411 connectors are designed to isolate equipment vibration and minimum permanent offset. Longer length connectors can be fabricated upon request that will accommodate greater lateral pipe motions.
Series 411 is offered with standard copper sweat/tube ends. Series 410 is built with copper hex male NPT ends These connectors are typically in stock in sizes ranging from 1/2" to 3" diameter.
Unisource Series 412 flex connectors are ideal for use as either a U.L. rated vibration eliminator in refrigeration applications or as an extended length HVAC connector for copper pipe. Series 412 connectors are offered in the standard bronze braided style or with stainless steel hose and braid, combining the exceptional physical properties of stainless steel hose and braid with copper tube end connections. Our advanced attachment process ensures a positive, corrosion-free end fitting at an economical cost. The end result is high working pressures, high temperature ratings, corrosion resistance, and longer product life. U.L. recognized. Please note that chlorinated or acid flux should not be used in combination with the optional stainless steel braided Series 412 connectors.
Unisource Series 413 flex connectors are specifically designed for connecting to H.V.A.C. water equipment. These economically priced assemblies are ideal for heat pump/fan coil applications and are equal to or surpass specifications for most competitive hose assemblies built for similar applications. In addition, Series 413 conforms to ASTM E 84-01 for fire rating.
Series 413 flex connectors are constructed using an EPDM rubber inner core, stainless steel exterior braid, 304L stainless steel crimp ferrules, and either brass or zinc dichromate steel threaded ends. End connections are male solid NPT one end and a swivel adapter producing male swivel NPT on the other end. Operating pressure ratings are calculated at an average of 4:1 safety factor. Available sizes are 1/2″ I.D. through 2″ I.D. and lengths from 12″ overall to 36″ overall.
| | | | |
| --- | --- | --- | --- |
| Hose | End Fittings | Sizes | Braid |
| Bronze. Annular corrugations | Copper female sweat | 1/2″ through 3″ | Single or double bronze braid |
| | | | |
| --- | --- | --- | --- |
| Hose | End Fittings | Sizes | Braid |
| Annular bronze corrugated hose. (Sizes 2-1/2″ and larger are stainless steel corrugated annular hose) | copper tube ends | 1/4″ through 2-5/8″ | Single bronze braid. (Sizes 2-1/2″ and larger are single braid annular T304 stainless steel) |
| | | | | | |
| --- | --- | --- | --- | --- | --- |
| Hose | End Fittings | Temperature | Pressure Range | Sizes | Braid |
| EPDM rubber inner core | Steel crimp ferrules, brass or plated steel threaded ends. Male NPT solid one end, male NPT swivel other end | -40 Deg. F to +302 Deg. F | 300 PSIG to 500 PSIG (Depending on size) | 1/2″ through 2″ | 300 Series stainless steel |