Series PG Pipe Alignment Guides
Series PG Pipe Alignment Guides should always be used in conjunction with expansion joints. Pipe alignment guides help to control the motion of pipe and expansion joints, insuring that the joint is subject only to the deflection for which it was designed. Unguided piping, under pressure will tend to buckle, sometimes severely. This buckling would deter the expansion joints from working properly. Guides permit unobstructed axial movement of the pipe while restricting lateral, angular, or buckling movements.
Standard spider guides are manufactured to accommodate specific amounts of movement and insulation. A pipe guide assembly consists of an anchored housing and a sliding spider that is attached to the pipe. The spider moves through the housing as the pipe expands and contracts. Guides are carbon steel painted for rust protection. Additional items in this series include pre-insulated guides, pipe slides and bases, anchor clamps, baseboard fin-tube guides, baseboard anchors, and hinged series. The Expansion Joint Manufacturers Association (EJMA) lists the industry standards for the use of pipe alignment guides in their 10th Edition of "Standards".
Pipe alignment guides are ideal for use in conjunction with expansion joints in order to prevent pipe buckling. For more information on expansion joints, see our section on Metallic Expansion Joints.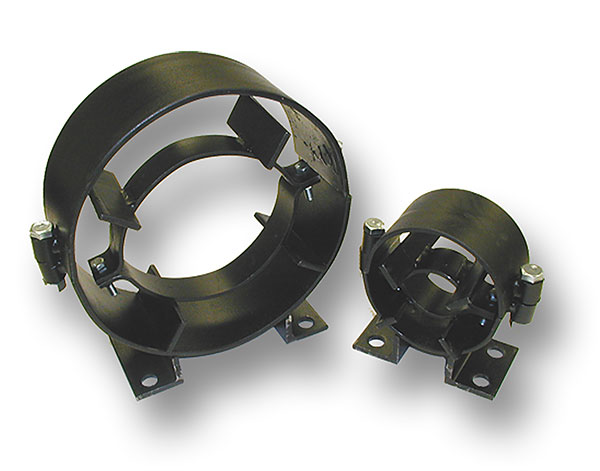 | | | | | | | | |
| --- | --- | --- | --- | --- | --- | --- | --- |
| Sizes | Material | For Piping Styles | To Accommodate Insulation Thicknesses | To Accommodate Thermal Growth | Motion Capability | Provision For Copper Pipe | Provision For Insulation |
| 1/2″ through 24″ | Carbon steel. Painted for rust protection | Steel, stainless steel, copper (requires dialectric spacer) | 1″ to 4″ | 3″ to 12″ (Depending on size and style) | 3″ to 12″ (Depending on pipe size and body style) | Specify dialectric spacer | Gap between outer body and spider varies so that user can pack with insulation. Specify 1, 1-1/2, 2, 2-1/2, 3, 3-1/2, or 4 |