Material Handling Hose for Oilfield & Fracking Sites
Material handling hose for fracking and other oilfield applications is a critical service product. Special proppants (sand with fracking chemicals) are used in the fracking process in order to help keep the hydraulic fractures open. These proppants are transferred by piping, but also flexible hoses. Unisource offers our most abrasion resistant sand transfer hose with a 1/4-inch thick inner tube. The tube is also static dissipating, an important factor when transferring abrasive materials. Sand hoses are used in the delivery of proppants to the fracking site and also in the transfer of material from storage to the well. For a comprehensive explanation of fracking sand and it's uses, check out Hi-Crush Inc.
Unisource also offers our a hot air blower hose. This hose is used on the delivery truck tanks, transferring hot air to the trailer mounted sand tanks in order to stimulate flow. These hoses are built with a specially formulated EPDM tube and are rated for a minimum of 350 Deg. F. continuous temperature
To check out our complete line of material hose for all industries, visit our Material Handling Hose section. To return to the Products for the Oilfield Industry, click here.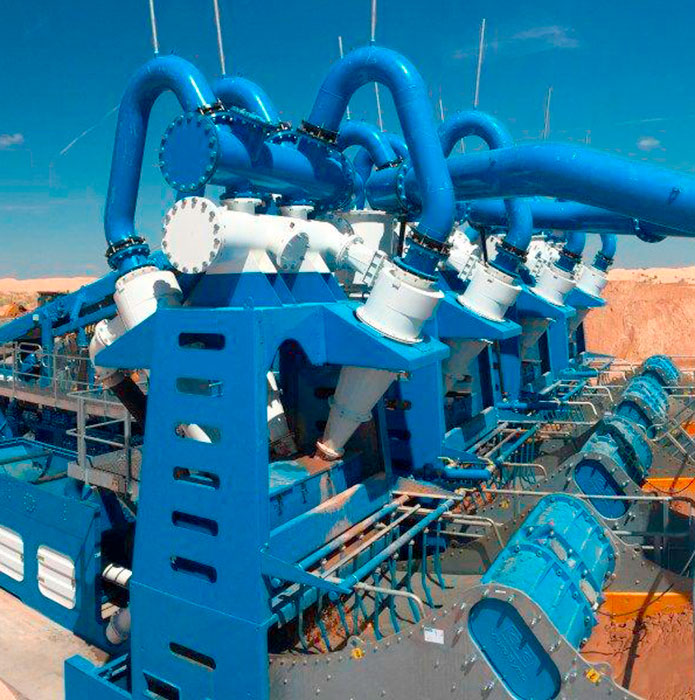 Series 2340 Sand Transfer Hose – 1/4" Wall

Tube:
1/8", 3/16", or 1/4" black natural rubber blend. Static conducting
Reinforcing:
Multiple textile plies
Cover:
Black SBR rubber
Temperature Range:
-25 Deg. F. to 180 Deg. F.
Branding:
White Mylar / Black letters
Applications:
Recommended for use on bulk transport trucks in discharge service. Abrasion-resistant tube handles dry cement, lime, silica, and other abrasive materials. Static dissipating tube and cover.
Part
Number
I.D.
(In)
O.D.
(In)
Tube
Thickness (In)
W.P.
(PSIG)
Weight
(Lbs / Ft)
Std.
Length
Stock (Yes)
or Min. Order
2340-40018
4
4.46
1/8
75
1.37
100'
Yes
2340-40316
4
4.58
3/16
75
1.82
100'
Yes
2340-40014
4
4.70
1/4
75
2.28
100'
Yes
2340-45018
4-1/2
4.98
1/8
75
1.64
100'
400'
2340-45014
4-1/2
5.23
1/4
75
2.65
100'
400'
2340-50018
5
5.44
1/8
75
1.80
100'
Yes
2340-50014
5
5.67
1/4
75
2.99
100'
400'
2340-60014
6
6.67
1/4
75
3.54
100'
400'
Series 2390 Hot Air Blower Hose

Tube:
Black EPDM
Cover:
Black heat-resistant EPDM
Reinforcement:
Multiple textile spirals w/dual wire helix
Branding:
Yellow Mylar / Black letters
Temperature Range:
-40 Deg. F. to 350 Deg. F.
W.P. Design Factor:
4: 1
Applications:
This hose is specifically designed to convey hot air at 350°F continuously in the process of loading/unloading dry materials in plants or transport vehicles. The hose transfers hot air from the compressor to the storage bin/cargo bay to propel bulk product. The specially formulated EPDM tube and cover offer excellent resistance to heat as well as to weather and ozone.
Part
Number
I.D.
(In)
O.D.
(In)
Bend
Radius (In)
W.P.
(PSIG)
Weight
(Lbs / Ft)
Std.
Length
Stock (Yes)
or Min. Order
2390-200
2
2.56
5.0
125
1.22
100'
Yes
2390-300
3
3.54
8.0
100
1.93
100'
Yes
2390-400
4
4.61
13.0
75
2.65
100'
Yes