Sanitary Fittings & Collars
Series 27 Radial Crimp Style Sanitary Fittings
Our stainless steel radial crimp sanitary fittings provide a 360 degree external crimp that eliminates the possibility of leakage or bacterial build-up. Radial crimping does not deform the interior of the smooth stainless steel fitting, maintaining the purity, and integrity of the coupling. The relieved barb design allows full flow of product. The Unisource radial crimp system is C.I.P. suitable, and does not require disassembly for cleaning like externally clamped fittings.
In addition, radial crimp fittings have a smooth external surface, with no bands or wires to hinder dragging or injure workers. Radial crimp couplings are made from stainless steel material and wetted surface finishes exceed 20 Ra. Unisource offers a standard stock of three basic styles of sanitary fittings to accommodate our sanitary hose specifications. Our standard coupling styles are: Tri-Clamp Style, Bevel Seat Style, and Tube End Style.
Other end fitting available include: "BM" male Acme Thread; "IF" female I-Line; "IM" male I-Line; "AF" flange end; "CF" female cam & groove; "CM" male cam & groove; and "MPT" male pipe thread.
Also, ask for information on tri-clamp gaskets and clamps, reducers, tees, elbows, and other sanitary fittings.
For hose information, consult our web section on Rubber Sanitary Hose, PVC Food Grade Hose, and Silicone Hose & Fittings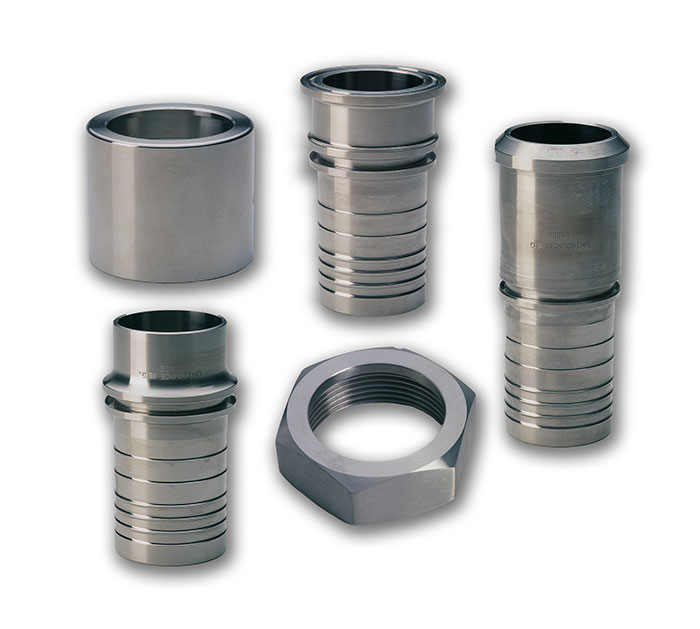 SPECIFICATIONS
Sizes:
1/2″ through 4″
Material:
304L Stainless steel
Finish-Collar:
ID-32 RA, OD-32 RA
Finish-Stem:
ID-20 RA, OD-32 RA
Note:
Meets FDA, USDA, and 3A criteria for collars and stems
Other Fittings Available:
Male or female pipe threads, flanged ends, male or female I-line, sanitary step-up
316 SS material available upon request
Series 27 Crimp Collar – Sanitary Fittings
Crimp collars in 304 stainless steel to accommodate rubber sanitary hose. Ask for Series 17 to crimp PVC hose.
Series 27 Acme Threaded Nut
Bevel seat hexagonal nut with Acme thread. Bevel seat gasket is required.
Series 27 Bevel Seat Stem
Bevel seat fittings provide a secure connection while giving you the flexibility for disassembly. We recommend use of bevel seat gaskets in order to avoid a metal-to-metal point of contact. Products are available in both 304 and 316L stainless steel alloy, all of which are 3A certified. For use in the line processing equipment and systems within food, beverage and dairy industries.
Stainless steel tube fittings conform to conventional tube OD specifications, butt weld fittings are engineered to facilitate a wide variety of processing connections.  For use in the food, beverage, dairy and pharmaceutical industries. Fittings are manufactured in accordance with 3A Standards. Available for purchase online in both 304 and 316L stainless steel alloys.
Stainless steel tri-clamp fittings are the most popular style of process line equipment used within the food, beverage, and pharmaceutical industries. Quickly create a leak-proof connection allowing easy assembly or disassembly for routine maintenance and inspection. Tri-Clamp connections require a gasket and clamp to complete a leak-proof seal.