Hydraulic Adapters & Support Products
Unisource offers a complete assortment of hydraulic adapters in steel, brass, stainless steel, forged style and in sizes ranging from 1/8" to 2" ID. Adapters are available in straights, 45-degree elbows, 90-degree elbows, tees, cross styles, and adjustable bulkheads.
For information on couplings for hydraulic hose, see our section on Hydraulic Fittings.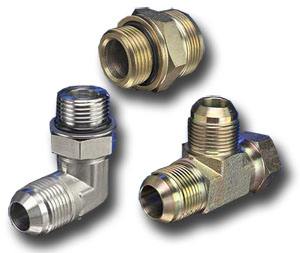 | | |
| --- | --- |
| Styles Available | Pipe, JIC SAE, Tube End, O-Ring Face, Flanged Bulk Head, Metric, O-Ring Boss, and Brazed Fittings |
Code 61 and Code 62 split flange kits. Code 61 kits in sizes from -08 to -32 and pressures from 3000 PSIG to 5000 PSIG. Code 62 kits in sizes from -12 to -32 and pressure rating of 6000 PSIG. Flange kits include two each flange halves, four hex head grade 8 bolts and lockwashers, and one Buna-N O-Ring.
Jack Hose 1J100 Spring Guard – Bend Restrictors
Open/closed coil hose guards are designed to act as a bend restrictor behind the coupling attached on the hose. This protects the hose from being bent too excessively behind the coupling. Each coil has a closed end which enables firm attachment onto the coupling. Each coil is constructed of steel wire and plated with a zinc coating to resist rust. Warning tags available also.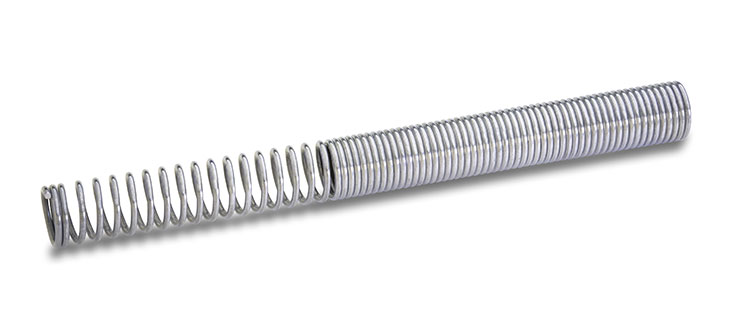 | | |
| --- | --- |
| Sizes | 0.50″ ID through 2.07″ ID |
| Length | 10 to 12 inches |
| Diameter | Inside diameter is minimum dimension at closed wound end. |
Tuff-Guard Nylon Hose Sleeving
Tuff-Guard is the industry leader for abrasion re- sistant woven sleeving used on hose, cable, and related products. Woven from high-density Nylon yarns, Tuff-Guard maximizes the application life of hose and cable by reducing or eliminating frictional wear in abrasive situations. Excellent for use as a shield from various chemicals, paints, and solvents and may be also used for bundling two or more hose or cable lines together.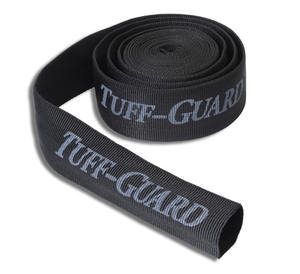 | | |
| --- | --- |
| Temperature | 250°F maximum ambient |
| Material | Bulked woven continuous Nylon filament |
| Thickness | .090″ wall |
| Colors | Black—standard stock product. Optional colors available upon request |
| Flammability | 430°F melting point MSHA approved (MSHA 1C-171/1) |
| Opened I.D. Dimensions | 0.710″ to 3.665″ |
Spiral Guard Hose Sleeving
Spiral-Guard hose sleeving is constructed of a specially compounded material that resists oils, lubricants, gas- oline, and most solvents. It can withstand ambient temperatures ranging from -100°F to +240°F, and it has a high resistance against ultraviolet weathering. Spiral-Guard is designed with an outside edge radius. This eliminates snagging and cut fingers when bundling groups of hose or cable. Spiral-Guard is used on, but not limited to, hydraulic, pneumatic, suction pump hoses and cables of all sorts. It is used in a wide variety of industries ranging from agriculture and mining to transport and distribution.

| | |
| --- | --- |
| Temperature | -100°F to +240°F |
| Material | High density polyethylene (high molecular weight) |
| Thickness | .090″ wall |
| Colors | Black—standard stock product. Optional colors available upon request |
| For Hose I.D. | 3/16″ to 2″. Also styles for bundling multiple hoses |