Carbon dioxide hose or CO2 hose is used to transfer both liquid and gaseous CO2. Carbon dioxide is a solid below -109 Deg. F. and becomes a gas at temperature above that figure. It can exist as a liquid only at temperatures between -70 Deg. F. and +75 Deg. F. Liquid CO2 takes up vastly less space than it does in its gaseous state and has become the ideal way to store large quantities for use in many industries. CO2 has numerous uses, including being a additive in the beverage industry. 
Unisource CO2 hose is manufactured in 1/2-inch in size and is made with thermoplastic material that is rated both for FDA grade food product, and also for the low temperatures that will be encountered. Hose construction is formulated to be unaffected by the possible degrading effects of CO2 and to handle pressure spikes that are encountered in many applications. The main installations for carbon dioxide hose are 1) as a fill hose stored on a delivery truck in long lengths on a hose reel, and 2) as a hose transporting liquid CO2 between the fill box at a customer facility and a liquid storage vessel. The hoses are used in lengths that vary from five feet long to 100 feet long. They are used an an assembly with metal hose fittings and paired with an equal length of translucent vent hose to provide safe outdoor venting.
In this industry, CO2 applications are heavily monitored by the FDA and the manufacturing and safety recommendations of the CGA. Unisource is a member of the Compressed Gas Association (CGA), the leading organization for the development of safety standards in the gas industry.
Refer to our PTFE & FEP Core Flexible Pigtail section for information on smaller diameter hose assemblies to fill gas cylinders.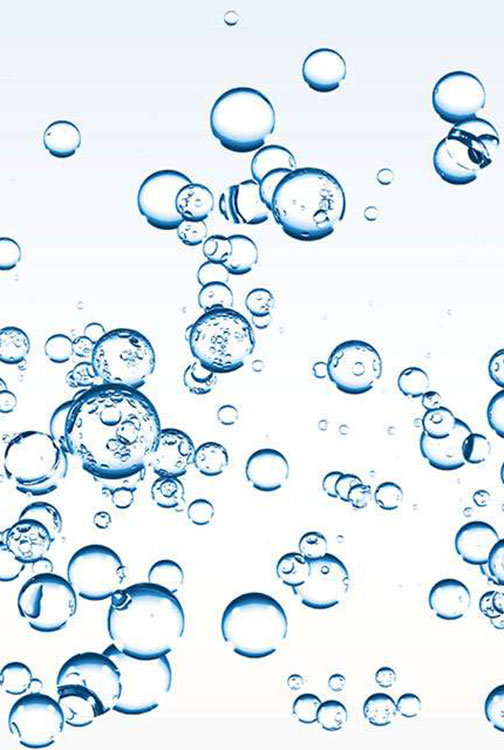 Carbon Dioxide Liquid/Vapor Transfer Hose
Series 4770 Beverage CO2 Fill Hose
Series 4770 thermoplastic hose is specifically designed for the transfer of liquid and gaseous carbon dioxide (Co2) for beverage applications. It is commonly used on squirt-truck delivery reels as well as flexible lines from the restaurant wall-box to the liquid cylinders. Series 4770 hose is specifically formulated to perform well in temperatures as low as -40 Deg. F., and the proprietary core is plasticiizer-free and FDA compiant. Our unique bonding process guarantees excellent kink resistance, and the proprietary "Tuff-Skin" cover provides for superior handling and abrasion resistance.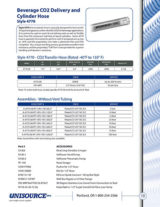 Series 4770 CO2 Hose
Product Bulletin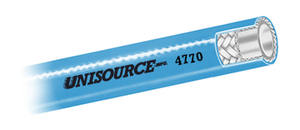 | | | | | | | |
| --- | --- | --- | --- | --- | --- | --- |
| Size | Reinforcement | Temperature | Max W.P. (PSIG) | Minimum Burst (PSIG) | Bend Radius (In) | Branding |
| 1/2″ | Polyester Braid | -40 Deg.°F to +150 Deg. F. | 2,000 | 8,000 |  4.0 |  Black Letter Ink Jet |
Fittings & Accessories for Series 4770 CO2 Hose & Equipment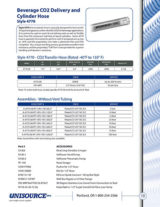 Series 4770 CO2 Hose
Fittings & Accessories Brochure
PART # & DESCRIPTION
D100S — FlexCrimp Portable Crimper
D100-1 — ValPower Hand Pump
D100-2 — ValPower Pneumatic Pump
PF-100 — Hose Swager
4599-FP006 — Pusher for 1/2" Hose
4540-30800 — Die for 1/2" Hose
B78C12-12F — Fill Gun Quick Connect – Wing Nut Style
B78N12-12FWF — Wall Box Nipple w/6 Hole Flange
9SS 8MP50xFP50-SS-B7657 — 90 Degree Stainless Live Swivel from Connection to Reel
N718-25-26-15.5G — Hose Reel w/1/2" Super Swivel Full-Flow, Low Temp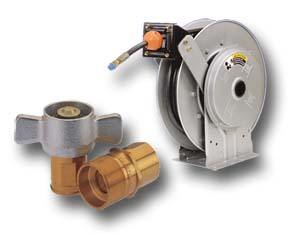 Series 4770 CO2 hose is available in bulk on reels of up to 500 feet (Part # 4770-08). Permanently attached fittings to fit the 1/2" hose with 5/8" FJIC end are also available in bulk (Part # 10FJ-8RT).
We also offer hose assemblies complete with the above mentioned fitting on both ends. Part numbers ending in the overall length, ie. A-4770-08-RT-10FJ-10FJ-60.0" would be 5 feet overall. Common assemblies lengths are 5', 10', 15', 25', 30', 50', 75', and 100'. Assemblies with vent tubing are also available.