Petroleum Tank Flex Connectors
Stainless Steel Braided
Flex Connectors – U.L. Listed
Underground petroleum flex connectors are demanding and highly engineered and specified. Unisource has designed and constructed special flexible metal hose assemblies exclusively for this market. Our special connectors are U.L. listed and meet or exceed the recommended U.L. and U.L.C. pressure ratings. FireGuard connectors are compatible with all fuel types, ethanols, and bio fuels.
We have connectors for any petroleum tank connection application–-above-ground, sump, or underground. Our unique fitting designs such as our special male swivel fitting make installation of hoses quick and easy.
Unisource connectors are constructed using stainless steel corrugated hose with stainless steel braid and welded-on fittings. FireGuard temperature ratings will far exceed those connectors made using PTFE material.
Protected by a one-year limited warranty. Contact Unisource for information.
For more information on Unisource Flexible Metal Hose, click here.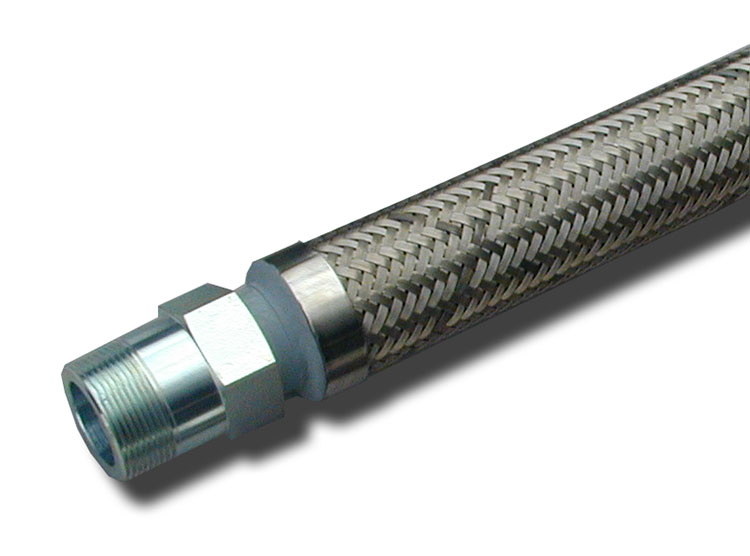 "FireGuard" Petroleum Flex Connectors for Above & Below Ground Use
Unisource FireGuard Flexible Connectors are the workhorse of the industry in above ground, sump, and underground applications.FireGuard meets all industry specifications for aboveground and underground applications.
FireGuard connectors are manufactured to exacting material and ASME welding standards and have been rigorously tested for pressure rating, temperature, motions, and fire rating. FireGuard connectors are UL listed and meet or exceed the recommended U.L. and U.L.C. pressure ratings. Each and every assembly is tested, utilizing helium leak method.
The stainless steel construction of the FireGuard connector is inherently corrosion resistant, resistant to aromatic vapor permeation, and offers a zero-permeation solution. The corrugated tube construction is rated for full vacuum service and complies with NFPA 30/30A codes. All connectors are shipped complete with installation instructions.
FireGuard connectors are easy to handle and install due to a special "hydro-forming" process that creates uniform wall thickness, enabling the finished assemblies to be extremely flexible.
The FireGuard assemblies are also designed to accept all approved secondary containment systems.
Choose from a variety of end fittings, including rigid male NPT, female NPT, male NPT swivel, Quick-Fit, BSPP and BSPT. Glue fittings also available for FRP applications. Can be ordered in lengths up to 96 inches overall.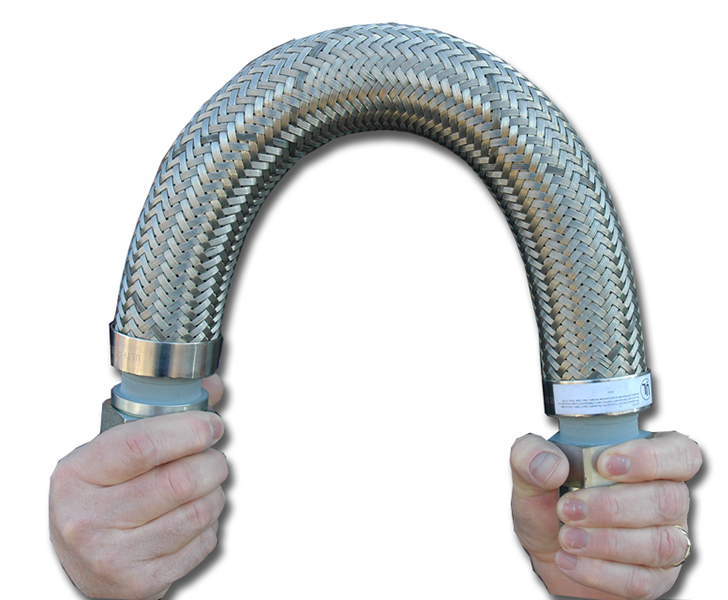 FireGuard Connectors are extremely flexible and easy to install.
FireGuard "Quick-Fit" System for Easy Installations
Our "Quick-Fit" system allows for an easy method of connecting petroleum piping to other components in the tank system, including shear valves and submersible pumps. The system includes a union fitting that is welded to the stainless steel flex connector, a Buna-N O-Ring seal, a heavy-duty secure clamp, and finishes with the desired end fitting–male NPT solid, male NPT swivel, female NPT solid, or female NPT swivel. Quick-Fit fitting made of 304 stainless steel. Quick-Fit makes it easy to install connectors in confined spaces.
To reduce inventory and to provide for any application, stock connectors with a Quick-Fit fitting on one end. Then simply create the needed assembly using these quick-install, quick-release fittings.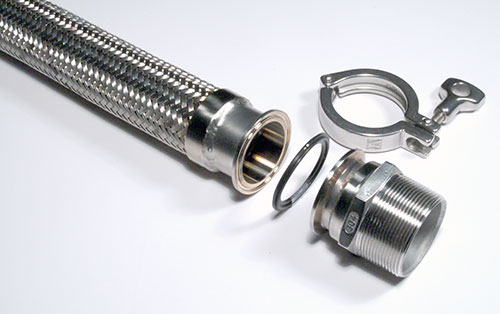 The "Quick-Fit" system includes a stainless steel braided connector with one or more Quick-Fit ends, rubber seal, clamp, and threaded adapter. Quick-Fit parts are made from 304 stainless steel.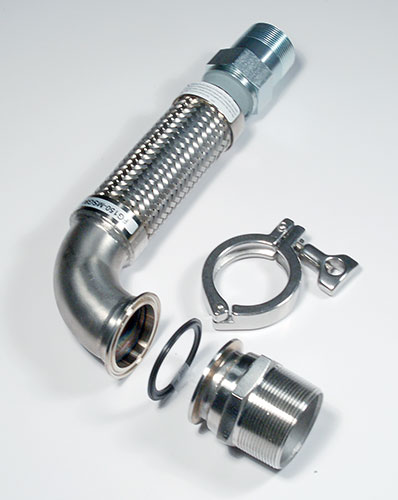 "Quick-Fit" system option include a 90 degree elbow welded to the hose connector, and a variety of end connections–threaded male or female NPT fittings, tees, etc.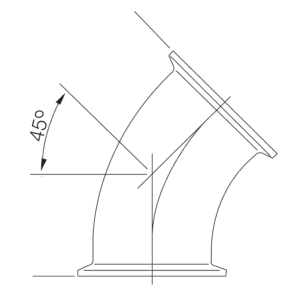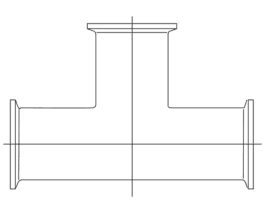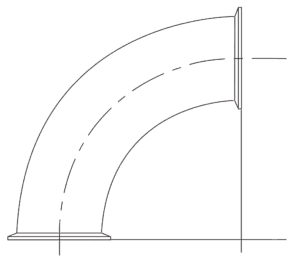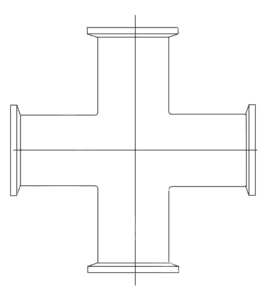 Note: FireGuard connectors should not be direct buried.
| | | | | | | |
| --- | --- | --- | --- | --- | --- | --- |
| Hose | End Fittings | Pressure Range | Sizes | Braid | Length | Vacuum Rating |
| Stainless steel annular close-pitch corrugations. Highly flexible | Rigid male NPT, female NPT, male swivel NPT. Other end configurations available | 150 PSIG | 3/4″ through 3″ | Type 304 stainless steel single braid | 12″, 15″, 18″, 24″, 30″ |  Full vacuum |
Note:  Working pressure changes to 50 PSIG when using integral hex swivel fittings