Industrial Hoses: Customized Industrial Hose
The Unisource industrial hose line is among the industry's most comprehensive, covering nearly every common industrial application.
Industrial hose is intended for use in all of America's heavy industries. Uses run the gamut from heavy construction to mining, tank truck service to chemical handling, oil refining to food processing, and much more. A tube, reinforcing, and cover is the standard construction, and are constructed of either rubber, plastic, silicone, or combinations of these.
PTFE and FEP materials are also available, so we can provide our distributors with a comprehensive assortment of hoses. Check out our hose product lineup for specialty industries including…cryogenic and compressed gas, flex connectors for HVAC applications, Sanitary hose and fittings, and oil and gas industry hose and fittings.
Unisource Manufacturing Inc. is a member of NAHAD–The Association for Hose and Accessories Distribution, giving our employee team and distributors with the latest in information and technology.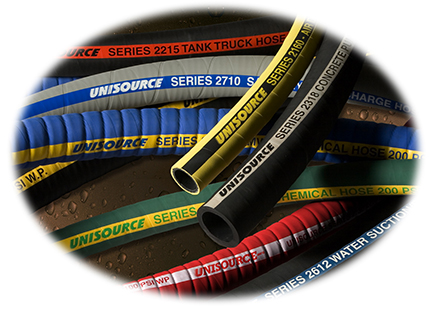 INDUSTRIAL HOSE CATEGORY LINKS

Vacuum, gunite, sandblast, concrete, dry cement, bulk materials, mine slurry, and hot blower hoses.
About Industrial Hoses​
Industrial hoses are flexible tubing used to transfer solids, gases, and liquids. Industrial hoses are subject to harsh environments where they may be bent, coiled, continuously run over, and more. Many different industries use specialty hosing in various applications. It's important to know what industrial hosing is right for your specific industrial need.
Types of Industrial Hoses
Every type of application may require a different hose with specific properties. Whether your project requires the transfer of non-hazardous materials, water, or dangerous chemicals, we have the right industrial hose for your unique job. Some common types of industrial hoses you may need include:
Oil Resistant Hoses:
Oil resistant hoses are used for the transfer of fuel or other petroleum products. Many of the substances carried by these hoses are considered dangerous or harmful. Generally, oil resistant hoses are made using Nitrile or high quality Neoprene rubber, or even Viton© in some cases. These hoses may be softwall or hardwall depending upon the intended service. Construction consists of a rubber tube, textile reinforcing, and rubber cover.
Chemical Handling Hose:
Reinforced rubber hoses that are constructed with special chemical resistant liners, such as cross-link polyethylene, UHMW (ultra-high molecular weight polyethylene), and fluoroplastics (PTFE and FEP). Chemical handling hose typically is built with a helical wire between the tube and cover in order for the hose to maintain its shape when moving or bending, and to withstand suction.
Material Handling Hose:
Can be either hardwall built with helical wires, or discharge hose that can lay flat. Material handling hose utilizes various abrasion resistant liners to ensure adequate service life. Built-in static wires or helical wires can be used in conjunction with end fittings in order to provide electrical continuity and to discharge static electricity that may be developed during transfer of dry abrasive products.
Steam Hose:
A heavy-duty hose with rubber tube and cover and steel wire reinforcing. EPDM or butyl rubber are utilized in the hose tube to withstand saturated steam temperatures. The rubber cover of steam hoses are pin-pricked so that steam that may permeate the rubber tube can be easily released through to pin-pricked holes and not popcorn the rubber cover.
Food Handling or Sanitary Hose:
A traditional hose with rubber tube, reinforcing, and rubber cover. The rubber tube is typically white or light gray and will be made using FDA materials, so the tube does not impart taste or smell. In some cases, the hose must meet 3-A requirements. Food handling or sanitary hoses are usually manufactured with white or gray non-marking rubber covers. The hose can be either hardwall or softwall.
Multipurpose Hose:
Rubber hose that is usually extruded in long lengths and provided on reels of 400 to 700 feet. Hose covers are usually red or black, but can be manufactured in green, yellow, blue or other colors, depending on the type of service intended. Reinforcing can be spiraled or braided to provide working pressures from 150 to 400 PSIG depending on size. Multipurpose hose can be used to handle water, air, or mild chemicals.
Water Suction & Discharge Hoses:
Hose intended to transfer water can run the gamut from heavy rubber to lightweight PVC. Common use is attached to the suction and discharge side of pumps for dewatering. Water suction hoses are always of hardwall construction with either a PVC or wire helix between the tube and cover. Discharge hose is a softwall construction, either in a layflat thin PVC style or heavy rubber style.
Many other types of industrial hoses are available, including air hose, cleaning hose, agricultural spray hose, and industrial fire hose.
Industrial Hose Applications
Air
Water
Steam
Chemical
Suction and drainage
Food
Pharmaceutical
Material Handling
Petroleum
Sandblast
Materials Available for Industrial Hose
Rubber
Silicone
PVC
Urethane
Metal
PTFE & FEP
Composite
Industries that use Industrial Hoses
Oil Industry
Forest Industry
Chemical Industry
Maritime Industry
Steel Making
Agriculture
Drilling
Mining
Paper
Ship Building
Construction Industry
Manufacturing
Food Processing
What is the Best Industrial Hose for My Business?
When picking the best hose for your project NAHAD and any other credible hose manufacturer utilize S.T.A.M.P.E.D:
Size: You must know the distance the hose must cover between equipment, vehicles, and workers. You must also determine the inside diameter depending on how the hose will be utilized.
Temperature: What are the minimum and maximum temperatures that the hose must endure?
Application: How will the industrial hose be used? Will it be installed indoors or outdoors? Will it be used by employees, machines, vehicles, etc.? Do you need to meet any government standards?
Media/Material: What kind of material will be transferred through the hose— liquid, gas, steam, chemicals? Is the material hazardous?
Pressure: What type of pressure or vacuum is needed to transfer media?
End Fittings: The end fittings are the type of end connector used between the hose and machinery, vehicles, etc.
Delivery: On what date is the hose needed?
Contact Us Today for an Industrial Hose
We understand how important it is to find the right industrial hose for your business. Picking the wrong type of industrial hose and fittings could result in damaged equipment, unnecessary downtime, and poor worker safety. Our experts are ready to match you with the right industrial hose and fittings for your application.