FEP Lined Rubber Hose – Fluoropolymer Lined
FEP lined rubber hose is ideal for many chemical handling and sanitary applications. The copolymer FEP (fluorinated ethylene propylene) has similar properties to the more familiar PTFE, but is more easily molded and formed and is often used as a liner for rubber hoses where chemical resistance and high temperature rating are required. FEP lined rubber hose begins with a smooth FEP liner. Textile reinforcing is added for pressure rating, a dual-wire helix is applied to provide a hard-wall profile and vacuum resistance and an external rubber cover (typically EPDM) is wrapped over the carcass. The entire hose is vulcanized to a permanent hose. FEP lined rubber hoses are typically made in larger sizes than the typical PTFE extruded versions with stainless steel overbraid. Sizes 3/4-inch to 3-inch are standard sizes. Assemblies are factory made, using either 316 stainless steel crimped on ends, fluoropolymer encapsulated ends, or flare-through style fittings. For information on a variety of styles of PTFE hose, visit our PTFE and FEP Hose Section.
For a more in-depth description of FEP material, select this link to the Wikipedia page.
Check out our website sections on Chemical Hose, products for Cryogenic and Compressed Gas, and Sanitary Hose for more applications.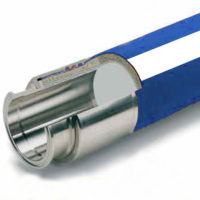 Series 2450 FEP Lined Rubber Hose

Tube:
(FEP) backed with modified XLPE
Cover:
Blue EPDM
Reinforcement:
Multiple textile plies w/ dual wire helix
Applications:
Recommended for the transfer of products that require a hose tube with the highest level of chemical resistance. The smooth-bore design is ideal for the unrestricted transfer of fluids and promotes draining and cleaning. The hose is reinforced with multiple plies of polyester yarn with dual wire helix. This reinforcing combination provides full vacuum capabilities, kink resistance, and high working pressure ratings. Other cover colors are available (red, black , gray, yellow, green and white). Meets or exceeds the requirements of FDA & USDA under 21 CFR 177, 1550, 3-A sanitary standards 10-15.
Part
Number
I.D.
(In)
O.D.
(In)
Bend
Radius (In)
W.P. @70° F
(PSIG)
Vacuum @70° F
(In/Hg)
Weight
(Lbs/Ft)
Std.
Length
Stock (Yes)
or Min. Order
2450-075
3/4
1.29
4.0
200
30
.52
100'
400'

2450-100
1
1.56
5.0
200
30
.63
100'
400'

2450-150
1 1/2
2.05
8.0
200
30
.93
100'
400'

2450-200
2
2.55
9.0
200
30
1.14
100'
400'

2450-300
3
3.59
18.0
150
30
1.77
100'
400'