Rubber sanitary hose is available through an exclusive group of sanitary distributors across North America. Contact Unisource for information on the nearest distributor in your area.
Unisource rubber sanitary hose is intended for in-plant or tank truck transfer of milk, beer, wine, potable water, and other non-oily food products. Our hoses begin with special rubber compound tubes with super smooth surfaces. Our compounds are made using FDA approved materials that do not impart odor or taste. Reinforcement of fabric braid or plies are added for pressure resistance. For our hoses rated for suction or vacuum, metal helical wires are added. Some of our hose products utilizes a polyester monofilament for a more crush-resistant product. Our rubber covers vary to fit your particular application–smooth or corrugated rubber, or PVC corrugation for easy drag, Our 3-A Certification Letter is available here.
Our stainless steel permanent crimp fittings are used on Unisource rubber sanitary hose. These fittings offer a smooth transition to the inner rube, eliminating ledges or crevices that can collect harmful bacteria or contaminants. They are C.I.P. suitable. The external surface is smooth and wetted surface finishes exceed 20 Ra.
So check out our best specs for the beer and wine, check out our Brewery Hose / Winery Hose section.
See our website sections on PVC Food Grade Hose, PTFE & FEP Hose, Silicone Hose & Fittings, Fittings & Collars, Washdown Hose & Nozzles & Mixing Stations, and Accessories.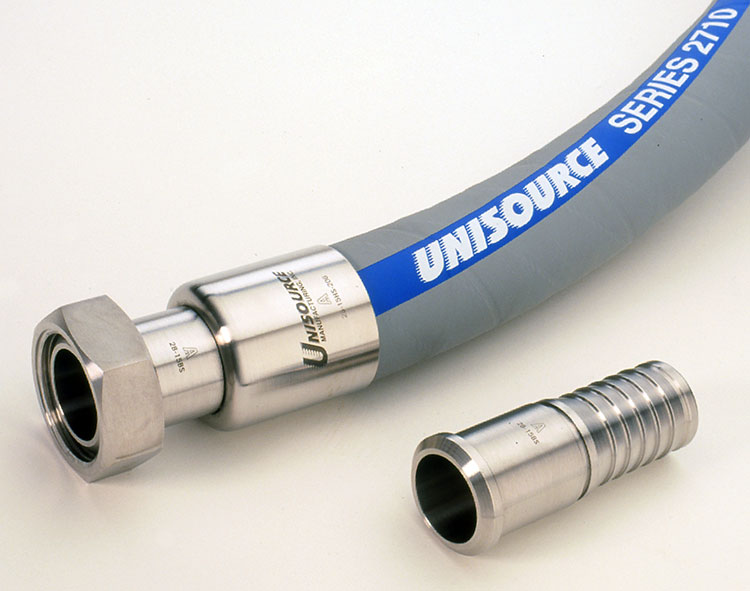 Series 2755 'Cobra" Food & Beverage Hose

Tube:
White EPDM
Cover:
Corrugated red UHMWPE
Reinforcement:
Multiple textile plies w/dual wire helix
Temperature Range:
-30 Deg. F. to 220 Deg. F.
Design Factor
4:1
Branding:
White Mylar / Black Letters
Origin:
USA
Applications:
Series 2755 combines ease of handling, low drag, easy cleaning, and high abrasion resistance in a single lightweight, extra flexible suction/discharge hose. Designed primarily for liquid transfer such as wine, beer, potable water, and other non-oily, liquid food products. The specially compounded EPDM tube handles high temperatures, will not impart taste or odor, and is highly resistant to a wider range of CIP solutions. Manufactured on polished chrome mandrels, the mirror finish tube resists bacteria growth, while providing excellent flow rates. FDA/USDA compliant and conforms to 3-A Sanitary Standard 18-03.
Part
Number
I.D.
(In)
O.D.
(In)
Bend
Radius (In)
W.P.
(PSIG)
Vacuum
Rating (In/Hg)
Weight
(Lbs / Ft)
Std.
Length
Stock (Yes)
or Min. Order
2755-100
1
1.50
2.0
250
29
.65
100'
Yes
2755-150
1-1/2
2.01
3.0
250
29
.90
100'
Yes
2755-200
2
2.52
4.0
250
29
1.17
100'
Yes
2755-300
3
3.59
6.0
200
29
2.08
100'
Yes
2755-400
4
4.59
8.0
150
29
2.81
100'
Yes