PTFE hose and FEP hose are the ideal choice for many chemical, gas, and high-purity applications. The broad Unisource line-up of these hose types are ideal for each of these situations. Generically, the specs covered here are under the classification of "fluoropolymer hoses". PTFE (Teflon Polytetrafluoroethylene) is a fluoropolymer that provides the industry's best all-around chemical resistance. At the same time, it offers both a very high and low temperature rating. The copolymer FEP (fluorinated ethylene propylene) has similar properties, and is often used as a liner for rubber hoses where chemical resistance and high temperature rating are required. This type of hose will find their uses in many industries.
We divide our fluoropolymer/copolymer hose line into the following groups–Smooth-Bore, High-Pressure Hose; Convoluted-Bore Hose; and FEP Lined Rubber Hose.
Unisource smooth-bore hose ranges from medium pressure to extremely-high pressure styles. These styles all incorporate an extruded PTFE liner of either natural white or static-dissipating black with stainless steel reinforcing. A wide assortment of fitting choices are available. Our convoluted PTFE choices include a low-profile, tape wrapped spec as well as helical wide-convolution, flare-through styles. Again, many styles of fittings are available. Our FEP lined rubber hose incorporates textile reinforcing with a dual helical wire for vacuum rating. It is an excellent choice where application temperatures are higher than standard chemical hoses will allow. Unisource PTFE & FEP hose is available in factory made assemblies and are 100% pressure tested.
Check out our website sections on Chemical Hose, products for Cryogenic and Compressed Gas, and Sanitary Hose for more applications.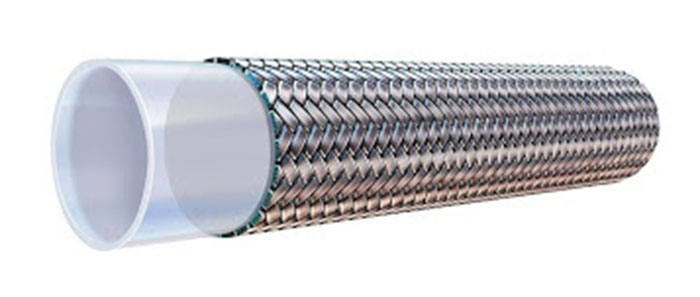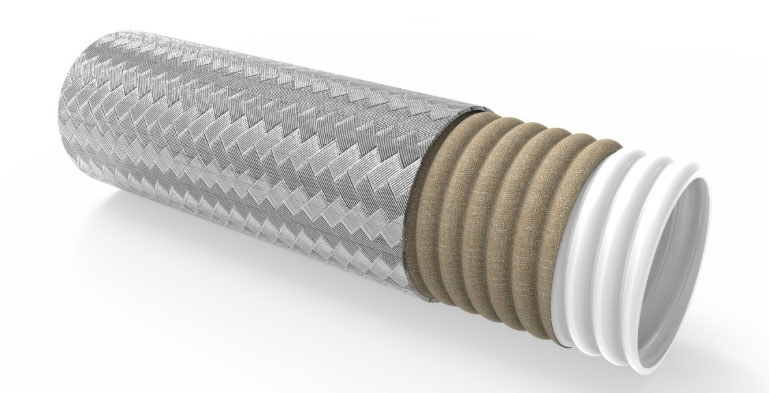 PTFE & FEP HOSE CATEGORY LINKS